Magical Lands Tours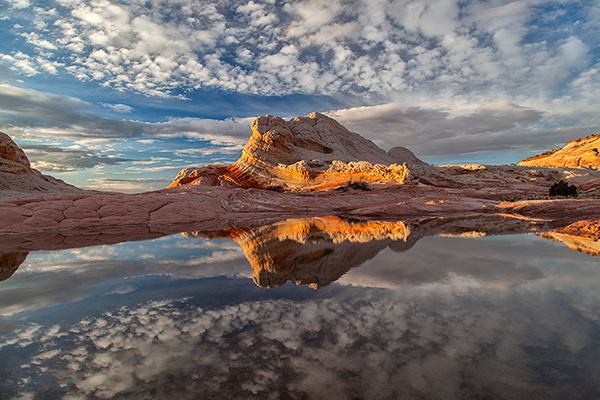 Magical Lands Tour Description
San Juan mountains fall colors, Valley of Dreams, Shiprock, Factory Butte, White Pocket, Moonscape Overlook, Mystical Slot Canyon, Little Wild Horse Slot Canyon . If you've ever dreamed of photographing these amazing out-of-the-way places, we have the answer for you! Join us on our Magical Lands tour, where you will be taken to these incredible places to photograph nature at her finest at the right time of the day, in the right place, and not have to worry about getting yourself there! We've been photographing these locales for nearly two decades and have the expertise to get you there!
We offer you the experience of a lifetime to visit places you've dreamed about and have plenty of time to add amazing images to your portfolio. You'll be taken there in comfortable Ford F150 4x4 Super Cab trucks, with tons of space for your gear and room to spread out and enjoy the scenery! This photo tour is quite small with three guests per vehicle and a maximum of two vehicles used! We'll help you with your camera settings, composition, equipment recommendations, and basic camera operations to get the best image you can. We'll always have time to answer questions and there will be plenty of time to interact with your fellow photographers. Each night we'll take you to our comfortable hotels where you'll be able to get a good night's rest and get ready for the next adventure!
PLEASE CHECK OUT OUR GALLERY FOR OUR MAGICAL LANDS IMAGES FROM THIS TOUR!
Equipment You Will Need
Good, closed climbing shoes.
A back pack (one designed for camera gear and tripod).
Digital SLR with short-to-medium lenses and filters.
Shutter release mechanism for night photography.

A lightweight tripod (for ease of carrying).
A sunhat. This is especially important for the summer tours. The desert sun is fierce and without a hat you could receive a bad sunburn.
What Is Included
All lodging from your arrival night through the last night of the tour.
Transportation while on the tour (you must make and pay for own flight to and from Grand Junction, Colorado).
We will provide water to drink for your comfort.

Meals and incidentals are on your own.
Dates: Sept 29 - Oct 3, 2023 (arrive the day before and depart the day after)
Tour Status: 1 SPOT LEFT (This is a semiprivate tour with only THREE guests!)
Base City: Grand Junction, Colorado
Fitness Level: Low to Moderate. Most areas are easily accessible, but you must be able to walk/hike 2 - 3 miles.
Itinerary:
Arrival Day: Arrive in Grand Junction, CO on September 28th.
First Tour Day: Depart Grand Junction headed for Hanksville, Utah. Photograph Moonscape Overlook, Factory Butte and Little Wild Horse slot canyon! Spend the night in Escalante, Utah.
Second Tour Day: Head to Mystical slot canyon (Peekaboo) for a stunningly colorful canyon and then head to White Pocket to photograph through sunset! Spend the night in Page, AZ.
Third Tour Day: Depart for Farmington, NM with late day/sunset photography at Valley of Dreams which is the land of hoodoos, fins, petrified wood and the Alien Throne. Spend the night in Farmington, NM.
Fourth Tour Day: A sunrise shoot at Shiprock, followed by fall colors in the San Juan Mountains of Colorado. Spend the night in Montrose, CO.
Fifth Tour Day: Fall colors in the central mountains of Colorado including Capital Peak and Kebler pass (the largest single grove on aspen trees in North America). Arrive in Grand Junction, CO mid evening.
Departure Day: Departure from Grand Junction, CO on Oct 4th.
Cost: $1850 per person
Disclaimer: The actual terms and conditions of the customer agreement control any contractual arrangement.